Orange Crownshaft Palm Tree - Live Plant in a 10 Inch Pot - Areca Vestiaria - Extremely Rare Ornamental Palms from Florida
Regular price

Sale price

$189.97
Free nationwide shipping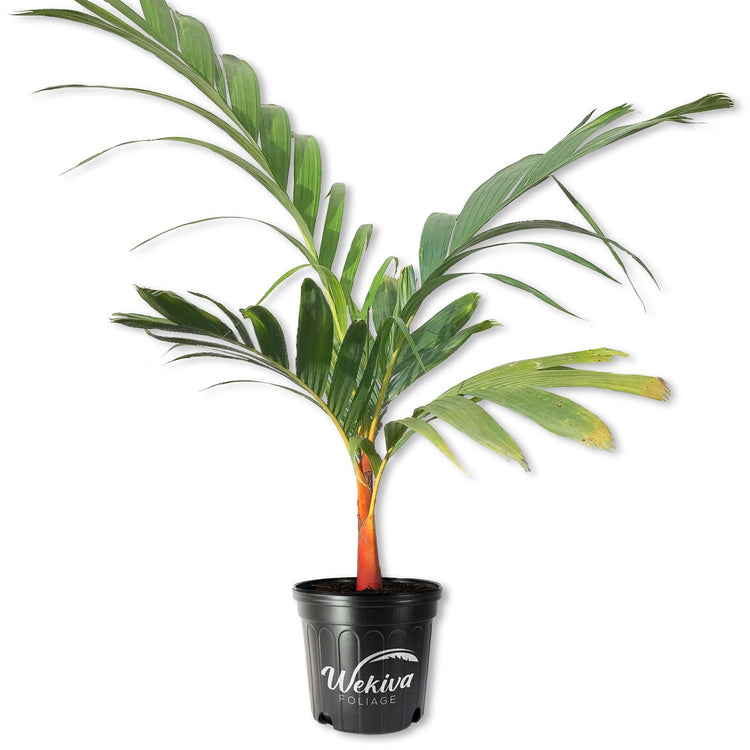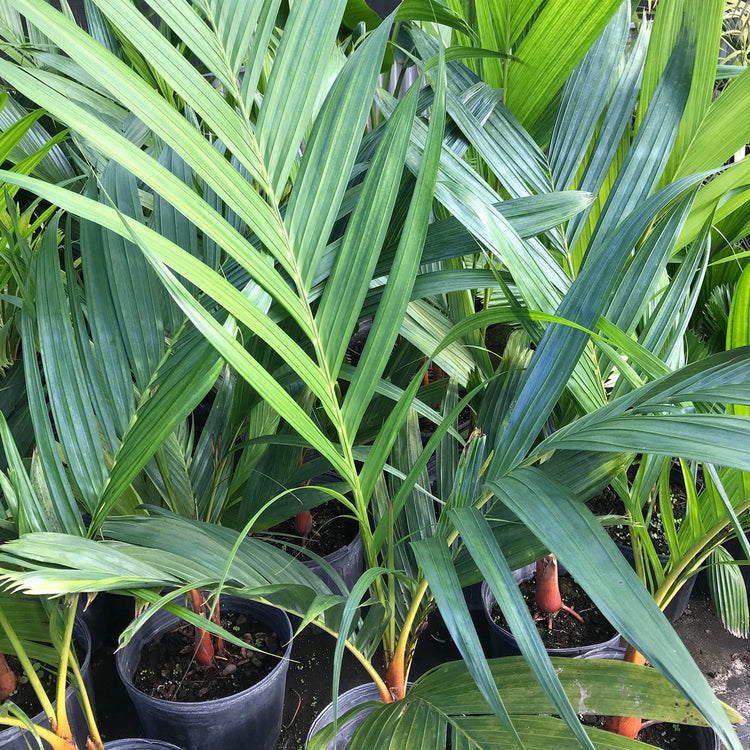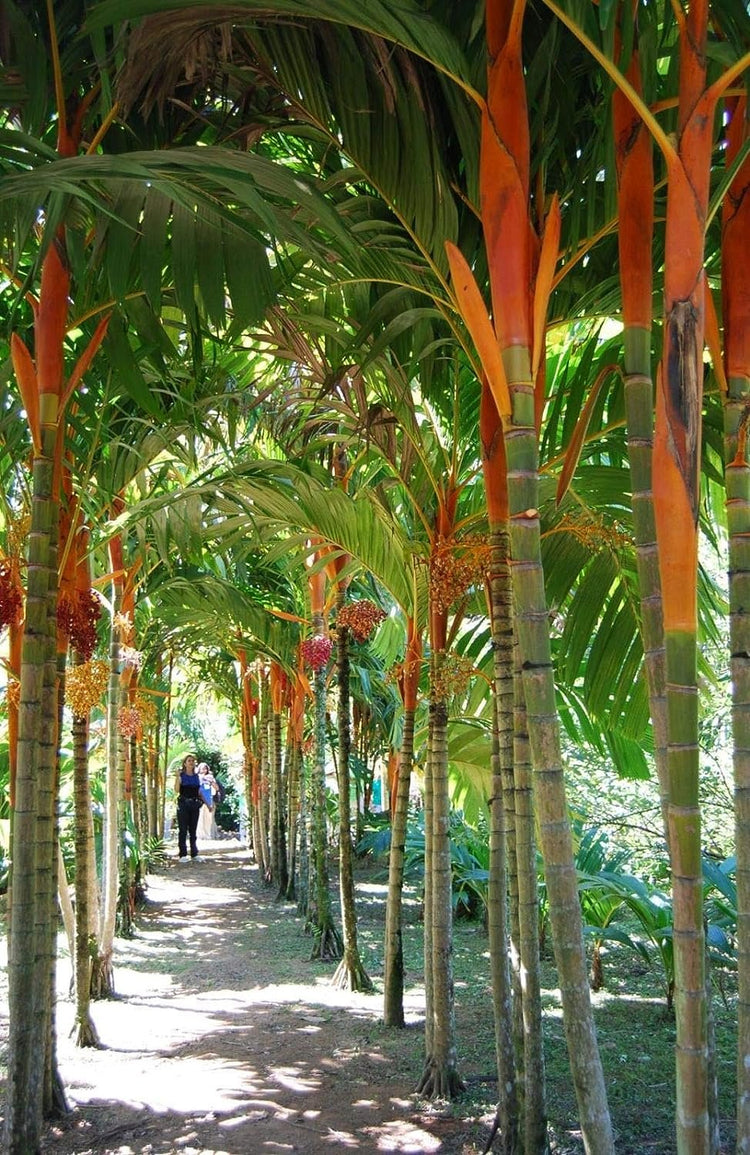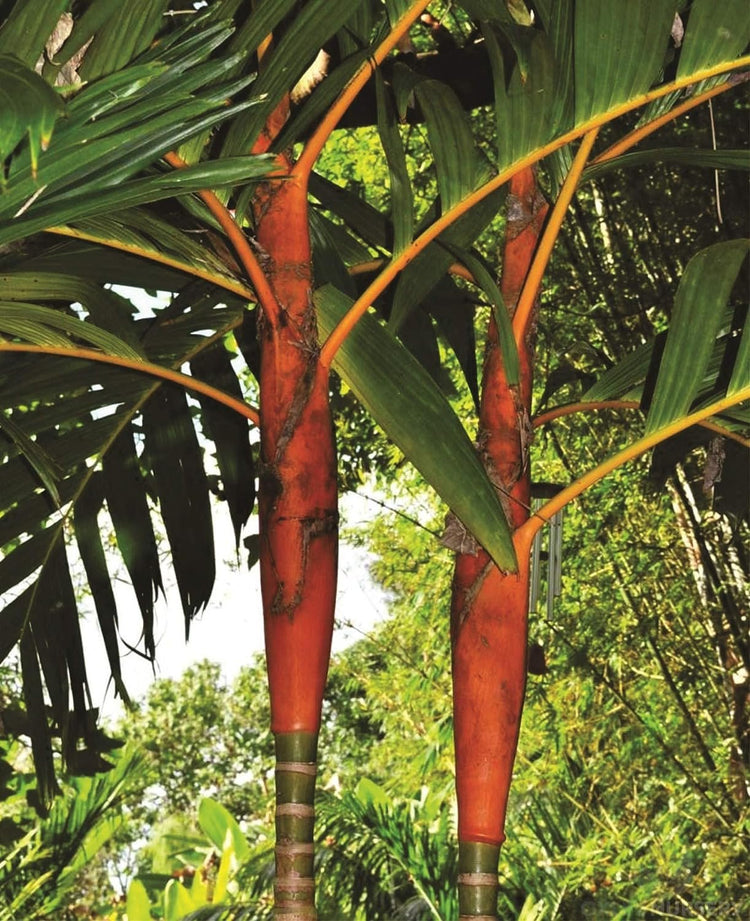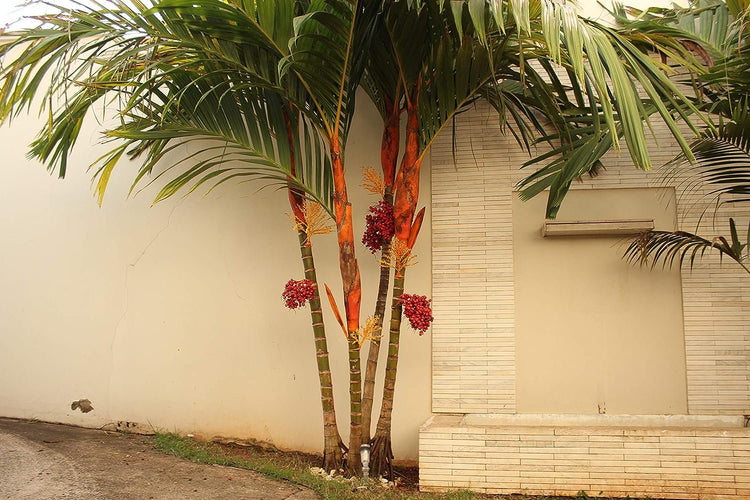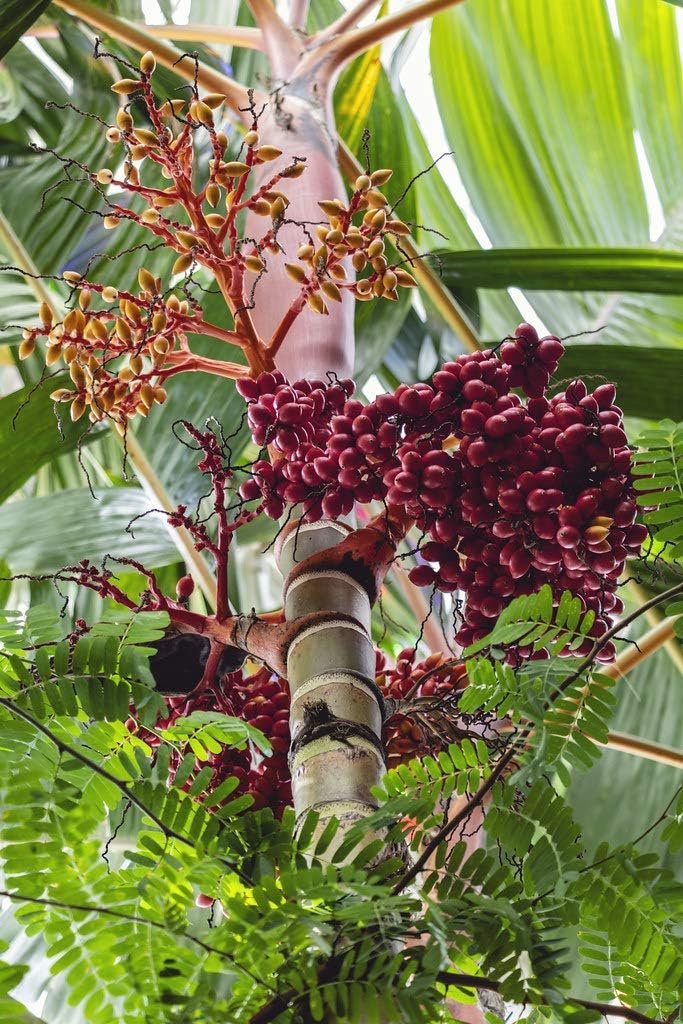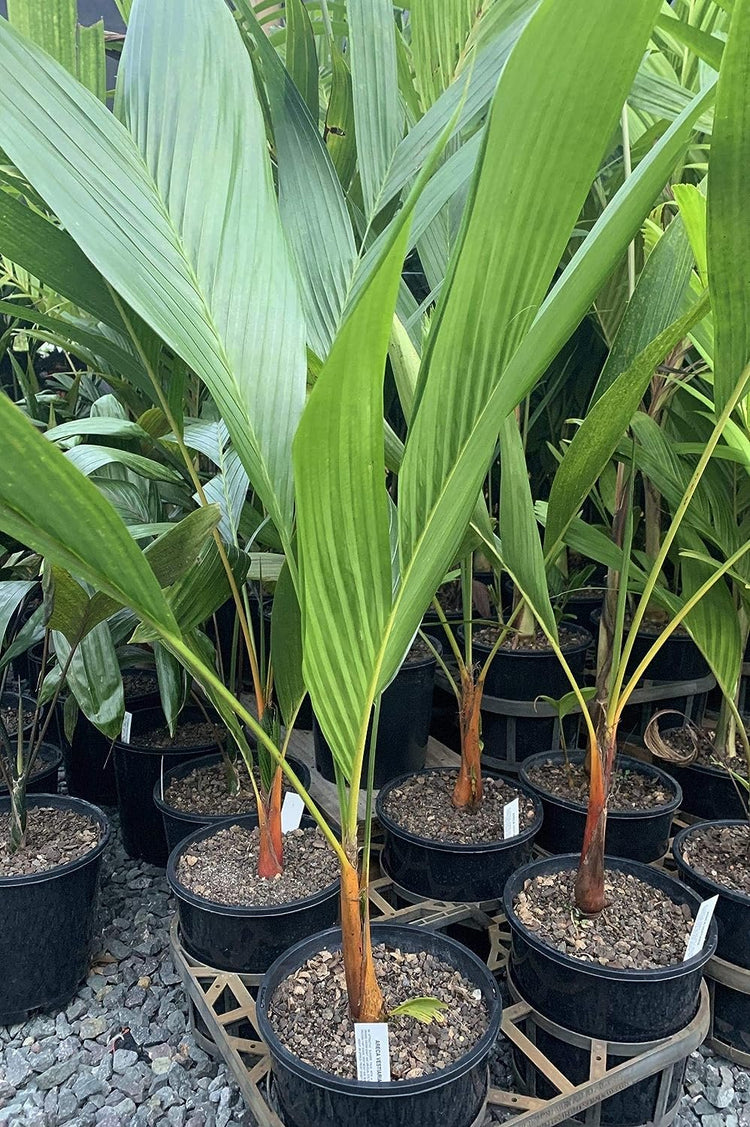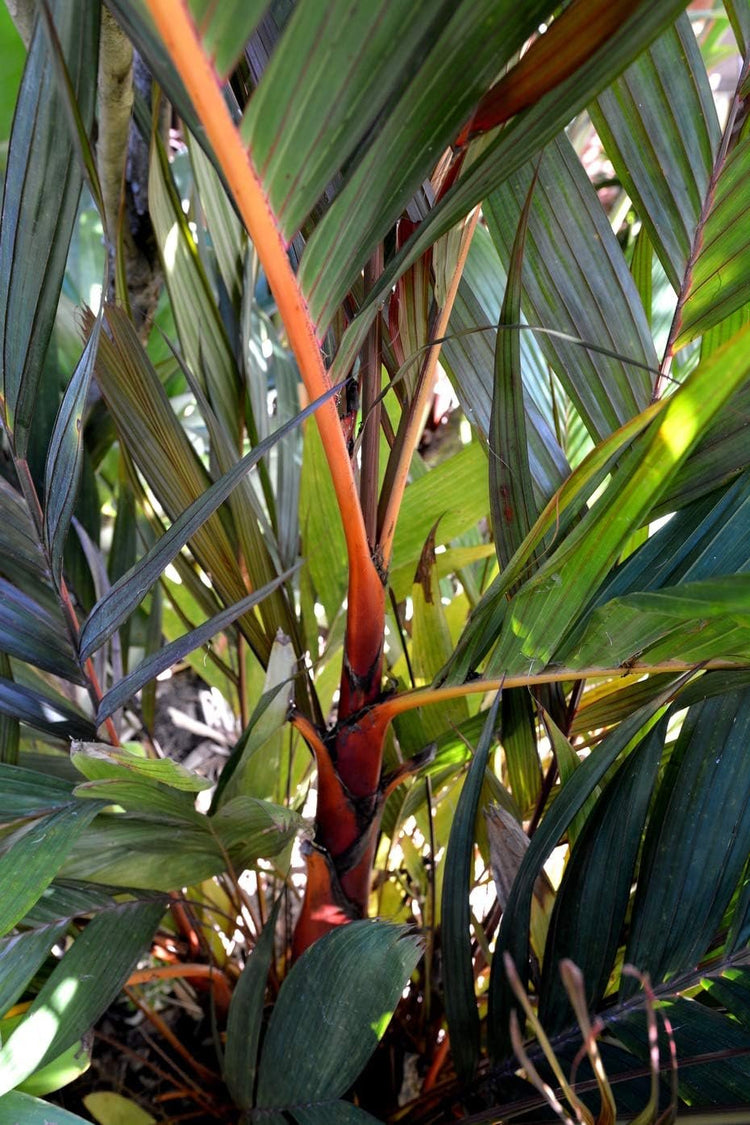 It would be hard to find a more morphologically diverse species in the palm kingdom. This gorgeous palm varies from a profusely suckering red crownshafted plant with maroon leaves, to a single trunked orange version with green leaves, and everything in between. It has been reported that there is substantial color variation depending on elevation, with the more colorful plants coming from higher elevations. Observations, at least in cultivation, indicate the maroon variety suckers more readily than the orange form. Clumping individuals will attain widths up to 15 ft/4.5m and heights of 20-25 ft/6-8m. This palm will often times exhibit distinct arial or stilt roots emerging from the 3-4in/7-10cm. diameter trunks. These palms are monoeceious with small yellow/orange flowers emerging from beneath the crownshaft that bear orange to dark red ovoid fruit similar to Areca catechu. Although tropical in nature, this palm appears able to withstand periodic low temperatures, but will eventually succumb to persistent coolness, often times only surviving until January in the So. California winter. It could probably survive close to nightime freezing, if the days remained on the warm side, as is often the case in parts of Florida. They prefer a sheltered, consistently moist and humid location, with more shade in less humid environments. A rich well draining soil would appear to be the best. It fruits profusely at a young age, and the seeds volunteer easily. The rate of growth can be surprisingly quick when given suitable growing conditions. Cold Hardiness Zone: 10a.
1. Warranty

All Wekiva Foliage plants come with a 30 day warranty. If your plant is damaged during delivery, please contact us within 48 hours.
2. Shipping Restrictions

Unfortunately we are unable to ship plants to CA, AZ, HI, and PR.
3. Weather Advisory

Please be aware of extreme cold or hot weather at the time of purchase. We ask that customers take responsibility for products ordered during extreme weather events.
30 Day Guarantee
Beautiful Plants Guaranteed
Sustainably Grown
Over 50 Years In The Foliage Industry
Wekiva Foliage is located in the heart of Wekiva Springs in Apopka, Florida. We have been specializing in growing landscape and indoor plants for over 20 years and have been in the foliage industry for over 50 years.
Testimonials





"Came in perfect condition--thank you!"

Natalie
"Amazing Plants! I was so happy to see these way larger than the plants pictured because I know how slow most cycads grow."

Matthew
"This is the first time I've ever ordered plants online, so I had no idea what to expect. When I saw the description of 'comes in a 4" growers' pot' I figured I'd be getting some fairly small plants--nope! The bamboo palms were fully 2' tall from root to top leaf, and perfectly healthy. All 5 plants were VERY well secured in their box, to the point that the bottom layer was even spray-foamed to the cardboard! I couldn't ask for a better experience and I'm so excited to see these plants grow. Five stars!"

Nathaniel
"Thrilled with my purchase! This seller went above any beyond! The packaging was very careful, the plants are so much bigger than I expected, and I was given more than what was depicted in the item description. 10/10 all round!"

Trisha
"This is SO BEAUTIFUL! Packaging was perfect and efficient, plant was in excellent condition. I'm in love with this plant and I will definitely order more."

R