Dragon Fruit Tree - Live Plant in a 4 Inch Pot - Hylocereous Undatus - Edible Tropical Fruit Plant from Florida
Regular price

Sale price

$32.97
Free nationwide shipping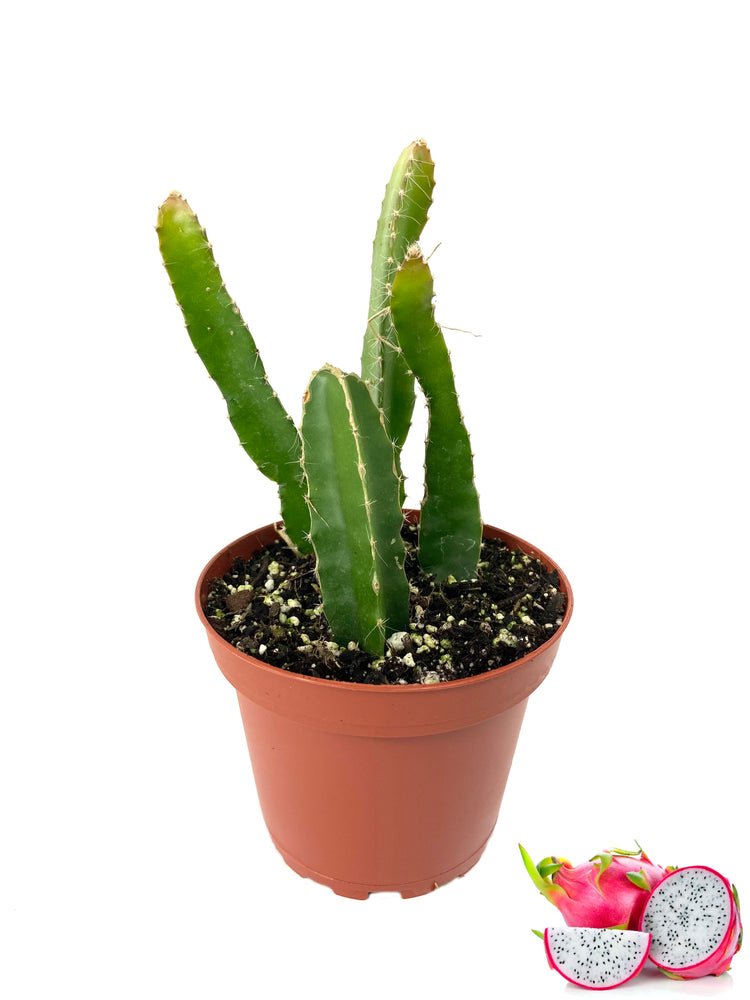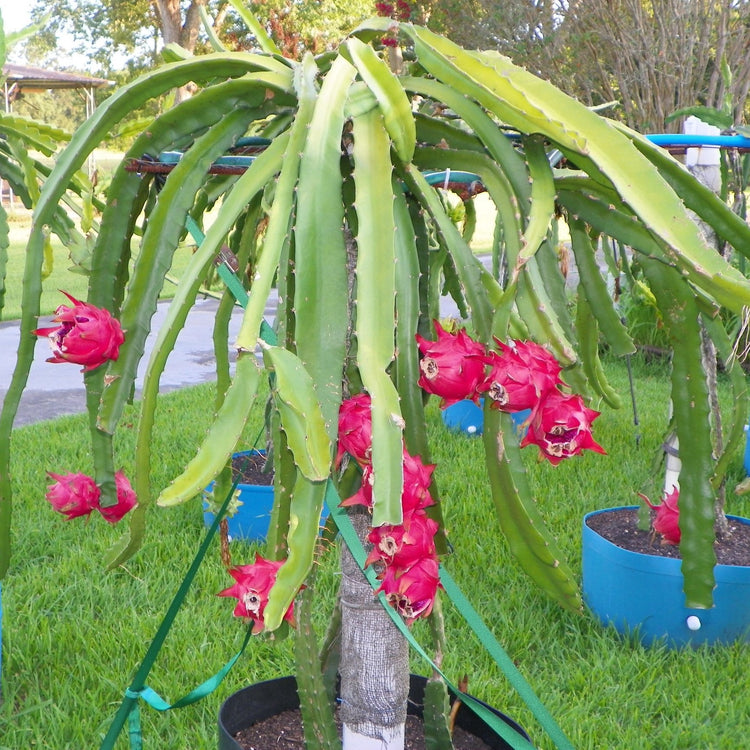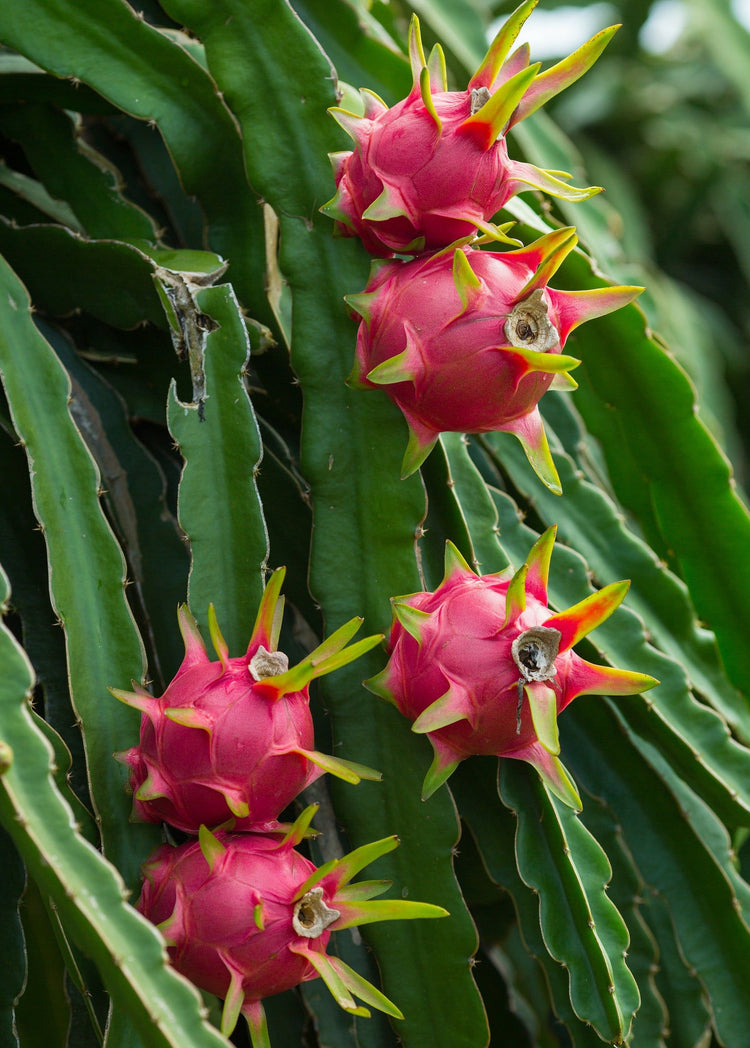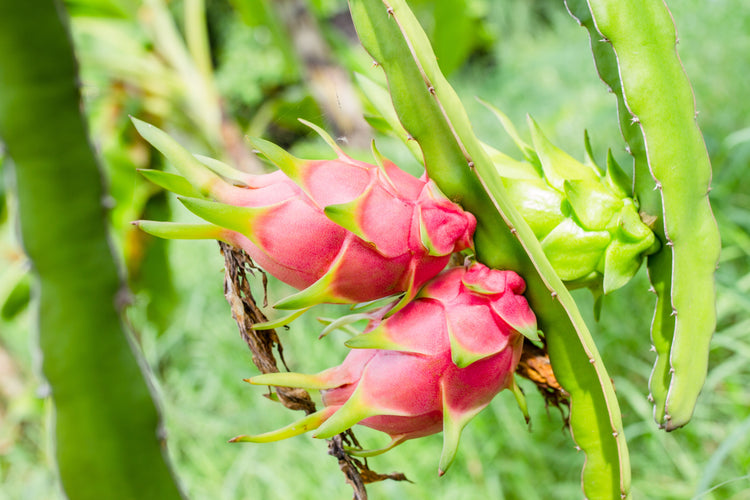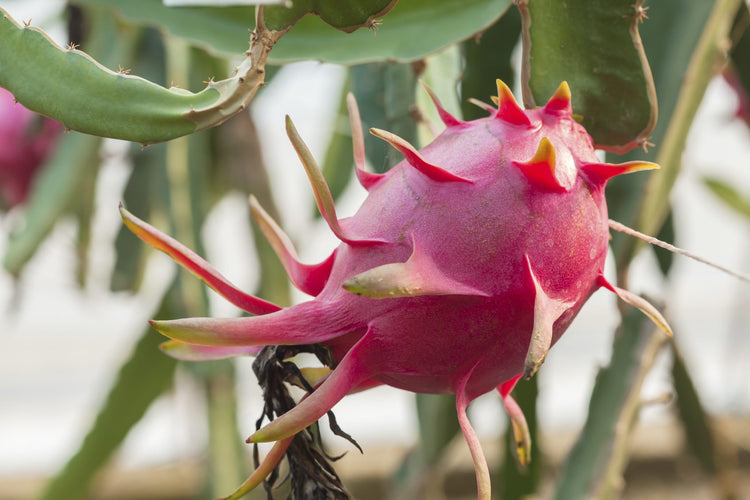 We do not currently ship to AK,AZ,CA,GU,HI,PR

Dragon fruit is a white-fleshed fruit with tiny black seeds and vibrant pink skin. Each fruit weighs between 150-600g and is commonly used in fruit salads, smoothies and salads. It has little flavour and its texture closely resembles that of kiwi fruit. To prepare all you to do is to cut the fruit in half and then scoop out the flesh.

dragon fruit is native to South America, but you'll also found it grown in parts of Indonesia, Taiwan, Southern California and most recently Australia. Dragon fruit grows on cactus plants which love warm, humid climates and needs very little water. They are subtropical plants which need at least six hours of sunlight per day. They will also grow well in a warm and sunny spot indoors.

In the right conditions dragon fruit plants grow can grow to be quite tall and will put down aerial roots as they grow so make sure your pot is at least 40cm in diameter. Also, remember that dragon fruit plants are climbers so give them a stake or something else to climb on.

Growing dragon fruit outdoors in your garden is a fail-proof way to add colour and personality to your garden. To prepare simply clear the area of any weeds and rocks and make sure that the soil is slightly sandy and acidic, you can always add a bit of extra potting mix to the bed to help make it cacti-proof.

When your dragon fruit starts flowering is a good indicator that fruit is on its way. Generally speaking, it will take around four weeks for a dragon fruit to be ready, you'll know when it is ripe when its skin turns that vibrant pink. Use a pair of sharp secateurs to cut the fruit off and store it in the fridge for up to two weeks.
1. Warranty

All Wekiva Foliage plants come with a 30 day warranty. If your plant is damaged during delivery, please contact us within 48 hours.
2. Shipping Restrictions

Unfortunately we are unable to ship plants to CA, AZ, HI, and PR.
3. Weather Advisory

Please be aware of extreme cold or hot weather at the time of purchase. We ask that customers take responsibility for products ordered during extreme weather events.
30 Day Guarantee
Beautiful Plants Guaranteed
Sustainably Grown
Over 50 Years In The Foliage Industry
Wekiva Foliage is located in the heart of Wekiva Springs in Apopka, Florida. We have been specializing in growing landscape and indoor plants for over 20 years and have been in the foliage industry for over 50 years.
Testimonials





"Came in perfect condition--thank you!"

Natalie
"Amazing Plants! I was so happy to see these way larger than the plants pictured because I know how slow most cycads grow."

Matthew
"This is the first time I've ever ordered plants online, so I had no idea what to expect. When I saw the description of 'comes in a 4" growers' pot' I figured I'd be getting some fairly small plants--nope! The bamboo palms were fully 2' tall from root to top leaf, and perfectly healthy. All 5 plants were VERY well secured in their box, to the point that the bottom layer was even spray-foamed to the cardboard! I couldn't ask for a better experience and I'm so excited to see these plants grow. Five stars!"

Nathaniel
"Thrilled with my purchase! This seller went above any beyond! The packaging was very careful, the plants are so much bigger than I expected, and I was given more than what was depicted in the item description. 10/10 all round!"

Trisha
"This is SO BEAUTIFUL! Packaging was perfect and efficient, plant was in excellent condition. I'm in love with this plant and I will definitely order more."

R